WASHINGTON COUNTY, MAINE lies at the easternmost tip of Maine and the nation - hence its nickname

the "Sunrise County". As the distinct and rugged corner of Maine referred to as"Downeast", its 2 1/2 thousand square miles encompass virtually every aspect that is Maine; vast expanses of deep woods and glacial heath, clean lakes, sparkling streams, and whitewater rivers all running to the sea.. Within its borders exists one of the largest tracts of unspoiled semi-wilderness remaining in the continental U.S. - surrounded by over 1000 miles of spectacular Maine coastline. With most of its population clustered in small towns and villages along the coast, the interior remains largely unsettled. However, Washington County, perhaps due to its remote location, has remained relatively unpublicized and free of mass tourism.
CATHANCE LAKE is a large (over 3,000 acres) spring fed lake in the heart of the Downeast interior. Considered one of the premier lakes in the region, Cathance Lake is known for the quality of its water, and it's landlocked salmon fishing; a substantial portion of the shoreline remains protected and undeveloped. The sound of loons characterize the lake, and the occasional bald eagle may be seen overhead. Cathance Lake is located on Route 191 - approximately 20 miles north of the historic coastal shiretown of Machias. Calais, Maine/ St. Stephen, NB, gateway to the Canadian Maritime provinces, is a 25 mile drive to the northeast.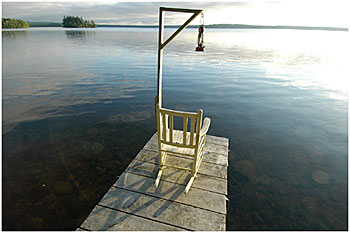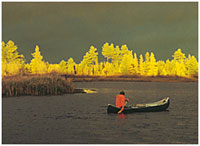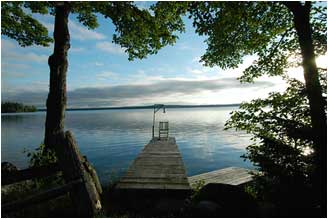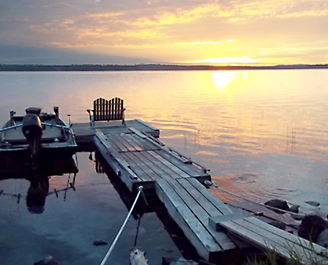 CLASSIC MAINE LAKEFRONT COTTAGE RENTAL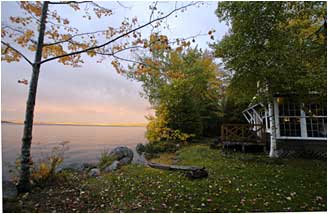 THE PROPERTY: SUNRISE COUNTY CANOE EXPEDITIONS, established in 1973, and known as an icon of the Maine Guide legacy, utilized the property at Cathance Lake as the Eastern Maine Base Camp for over 30 years. Quiet and secluded, with an unrestricted view of the lake, this historic Maine outfitting camp has now reverted to a private compound. The property is over 4 acres, with docks, wooded trails, a small camping area, garden, and several outdoor fireplaces. Rustic, though well-kept, with buildings and artifacts dating back to the early 1930's the entire property has an ambiance and atmosphere that have attracted visitors to return for decades. Picturesque and classic in appearance, the premises have actually been used several times over the years as a shooting location for film and advertising. This rental offers a large private property - with plenty of room, and privacy, to relax and enjoy one of the finest settings in eastern Maine.
For photos of rental cottage and more details please see "Manager's Cottage" section at bottom of page